10 Types Of Writing For eLearning: Writing Stories
Via Scoop.it – Digital Storytelling 2.0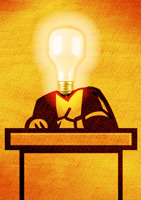 5. Writing Stories
It's Good Stuff.
Storytelling is all the rage now and for good reason. It ties concepts and facts together into meaningful knowledge. Educational research shows that storytelling helps people learn, retain and retrieve the information embedded in a story. I guess that's why people have been telling stories since ancient times.
What Stories Are.
Many formats of storytelling seem to work. Introducing a short scenario where a character must solve a problem or issue in a workplace situation is effective for content presentation, discovery learning, practice activities and test questions. More involved stories might provide an account of an event (real or fictitious) and provide a theme for a lesson, a virtual environment or an entire course.
Set-up, Problem, Resolution.
Scenarios and stories require a set-up, where the writer provides an environment in which characters can exist. The characters should resonate with the audience and they need a problem to solve or a goal to achieve. Ideally, the problem or goal has an emotional component—there are consequences of making a particular decision. A more involved story might have unforeseen consequences—twists in the plot. Finally, there is a resolution, a teaching point or some kind of satisfying conclusion.
Via theelearningcoach.com